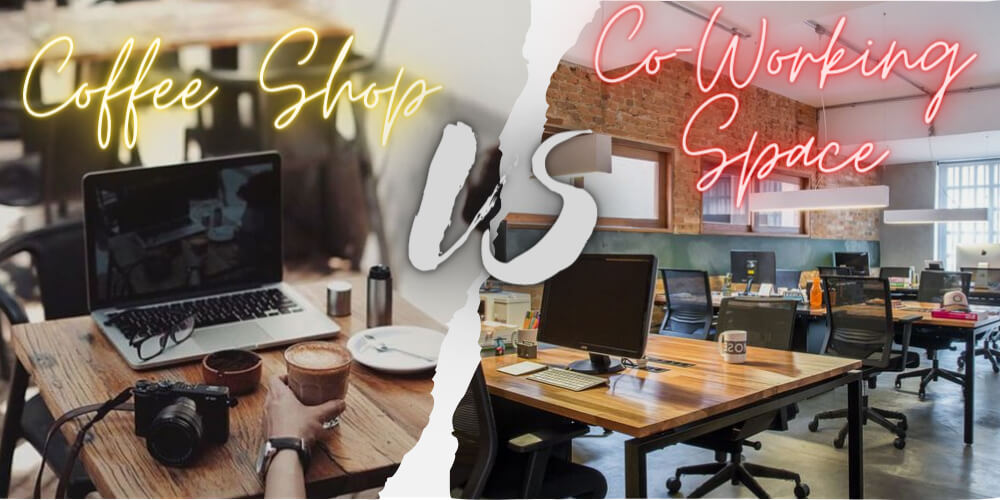 Working from home has its pros and cons, but sometimes you just need to get out of the house. When that's the case, more and more people are turning to coworking spaces. If you're looking for somewhere to spend the day or just want an occasional change of scenery without an expensive office lease or membership fee, a coworking space might be your best bet.
But why should you opt for a coworking space instead of your local cafe or coffee shop? After all, most coffee shops have plenty of tables and outlets for charging up your laptop—plus they have coffee! To answer that question, let's look at how co-working spaces take things a step further than your average cafe.
A Dedicated and Distraction-Free Workspace
Do you find yourself getting distracted by the never-ending stream of coffee orders or loud conversations while trying to work in cafes or coffee shops? We've all been there! Besides, you don't want to be that person who overstays their welcome and monopolizes the table for hours on end. That's where a coworking space comes in.
Coworking spaces offer a distraction-free environment with a host of dedicated amenities to help get your work done more efficiently.

With desks and private cubicles, fast and reliable internet, modern office equipment, white boards and pin boards to jot down your ideas - you have all the essentials right at your fingertips!

Many coworking spaces also offer amenities like onsite printing facilities, mail handling services, locker rooms and even showers!

And with monthly memberships available for shorter working stints, there's no excuse not to give it a try.
Equipping yourself with the right resources and tools can actually give you that extra push towards achieving success - whether it's finally finishing that project or that article or launching that product.
Access to Business Amenities
The truth is that if you're looking to get serious work done, a coffee shop or cafe just doesn't cut it. Sure, they have the basic amenities you need like Wi-Fi and free coffee (or tea), but that's about it.
A coworking space, on the other hand, offers much more than a laptop and free caffeine.

Many offer useful business amenities such as access to conference rooms, printers and scanners, mail services, storage facilities and so much more.

These resources can be invaluable for small business owners or entrepreneurs who need to get their work done efficiently.
Shared Office Space are also typically cheaper than renting out an office space of your own – especially if you just need a few hours of work!
Opportunities to Network and Collaborate
At a coworking space, there are plenty of opportunities to network and collaborate with other professionals. Many coworking spaces offer events for their members to meet and build relationships with each other. These events can range from professional development workshops to more relaxed happy hours.
Additionally, you can easily grab coffee with a fellow coworker or team-up for an impromptu project. So when you're looking to get inspired or need a fresh perspective, a coworking space can be the perfect place to look.

Furthermore, the environment in a coworking space is set up to fuel collaboration, leading to exciting new ideas and projects that might not have been possible without the resources of the space.

At many locations, the amenities may include white boards and breakout rooms designed specifically for brainstorming sessions and pitches.
Finally, these spaces are complete with all sorts of neighborhood connections that make it easy to link up with like-minded professionals who can help move your business goals forward.
Flexible Membership Plans to Suit Your Needs
Everyone knows that coffee shops can be great places for a quick work session, but with limited seating and unreliable Wi-Fi, it's not ideal for a long-term workspace. That's why you should consider coworking spaces if you're looking for a more reliable place to get work done.
In addition to the amenities offered at a coworking space, such as secure Wi-Fi and open event spaces, you can also benefit from flexible membership plans that suit your needs.

You'll find that most coworking spaces offer different membership packages depending on your needs — whether you need an office space or just a desk to call home during the day.

If you're unsure, many places also offer daily or weekly passes so you can try before committing to any plan.

Plus, unlike coffee shops, most coworking spaces don't require any sort of minimum purchase — meaning you won't have to waste money on buying food or drinks all day just so you have a place to work.
Coworking spaces provide an efficient and cost-effective way of getting your work done without compromising quality.
A Community of Like-Minded Professionals
When it comes to being productive, there's nothing like having a great environment to work in. That's where coworking spaces come into play—they're specially designed to be an inspiring and motivational place for entrepreneurs, small business owners, and remote workers alike.
Unlike cafes or coffee shops, coworking spaces are full of like-minded professionals who are all striving for the same thing: success.
Being surrounded by other motivated individuals can be a major productivity booster—who knows, you might even get some great new ideas from your fellow coworkers.

Plus, coworking spaces don't usually have the same hustle and bustle of coffee shops which can often be quite distracting. But don't worry—that doesn't mean that coworking spaces are completely silent either!

Most have social events like happy hours, which make it easy to meet people and build relationships with other members in the community.
So if you're looking for an awesome place to work every day with other enthusiastic professionals who share your same drive and ambition, then a coworking space should definitely be on your list!
Private Office Space Options for More Privacy
Maybe privacy is what you're after—in which case, a coworking space might be just the place for you. Not only do coworking spaces provide a distraction-free, quiet, and comfortable work area, but they also have private office space options designed to give you and your team the right amount of privacy.
Coworking spaces offer different kinds of private office space suites that can accommodate individual teams of two or more people.

These suites come with their own designated conference rooms, all equipped with amenities like a flat-screen TV for presentations and video conferencing capabilities.

If you need to step up the game even more, some coworking spaces also offer their own soundproof phone booths for when you need those extra minutes of concentration without interruption.

On top of all that, most coworking spaces have in-house amenities like free Wi-Fi, premium coffee/tea selections, printing services, snacks and refreshments throughout the day.
So if you're looking for an environment that'll give you enough opportunities to stay productive while still having enough privacy to power through those tasks without distraction (and some free caffeine!), then coworking spaces are definitely your best bet.
Conclusion
Coworking spaces are a great option for anyone looking for a productive work environment. They are often more affordable than renting an entire office, especially if you don't need a lot of space, and they can offer amenities like high-speed internet, conference rooms, and even hospitality services. They also offer a sense of community and collaboration, which can be invaluable for creativity and productivity.
Whether you're a business owner, freelancer, or someone who needs to work on a remote project, coworking spaces offer a convenient, flexible work environment that can help you get the job done with fewer distractions.
You can choose from a variety of sizes and room layouts, and you'll be able to access a variety of services, from private offices to shared workspaces. So, why not take advantage of this great opportunity to be productive, effective, and successful?
back to blog listing