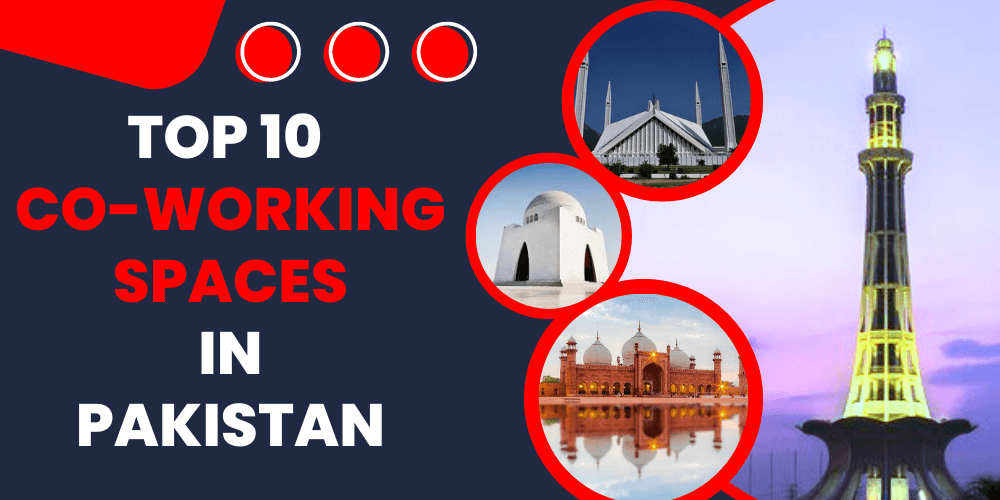 The modern business landscape has drastically shifted, with the emergence of startups, freelancers, and entrepreneurs who require ample and collaborative working spaces to foster innovation and creativity. As such, the co-working space concept has gained momentum as a viable option for businesses, primarily due to its cost-effectiveness and the many benefits it offers.
In Pakistan, there has been a steady rise in the number of co-working spaces, offering a wide array of services, facilities, and amenities to modern entrepreneurs. This article compiled the top 10 co-working spaces in Pakistan to assist entrepreneurs in selecting the most suitable space for their business.
Overview of Co-Working Spaces in Pakistan
Co-working spaces have become prevalent in Pakistan in recent years. Moreso, the concept of co-working spaces originated in the early 2000s. Co-working spaces are shared office spaces where various businesses, entrepreneurs, startups, and freelancers work within a common working area. These common spaces encourage networking opportunities, collaborations, and communications, highlighting diversity and creative thinking.
Co-working spaces provide not just desk spaces but also conference rooms, meeting rooms, and recreational areas like lounges and coffee shops. This allows entrepreneurs within these spaces to host meetings and events, network with other businesses and individuals, and build their business communities to foster growth.
The Concept of Co-Working Spaces in Pakistan
The idea of co-working spaces was initially introduced in Pakistan by e-novator back in 2012, which was followed by many other companies, including Regus, who introduced its first space in Karachi in 2013. The concept has continued to grow in popularity and acceptance amongst modern entrepreneurs, whether startup owners, small, medium-sized businesses, or global corporations.
The benefits of co-working spaces have become more evident in Pakistan, as the country has seen an increase in entrepreneurship activity and awareness. Co-working spaces provide businesses with advantages such as flexible lease agreements, low capital costs, and access to necessary office equipment and essential amenities like electricity, internet services, and meeting facilities.
Top 10 Co-Working Spaces in Pakistan
The following co-working spaces are among the top options available for modern entrepreneurs looking for a shared working environment in Pakistan:
COLABS - Lahore
Are you an entrepreneur, freelancer, or remote worker seeking a vibrant and productive workspace in Lahore, Pakistan? Look no further than COLABS, a premier coworking space that caters to the diverse needs of professionals. With its modern infrastructure, flexible membership options, and a vibrant community, COLABS provides an ideal environment for creativity, collaboration, and growth.
One of the key features that sets COLABS apart is its commitment to providing a complete package of amenities and services. As a member, you'll enjoy access to high-speed internet, ensuring seamless connectivity for all your online tasks and collaborations. Additionally, COLABS provides well-equipped meeting rooms that facilitate productive discussions and client meetings. These spaces are equipped with modern audio-visual equipment, comfortable seating, and a professional ambiance.
COLABS goes beyond just offering workspace and extends its support to foster a sense of community and collaboration. The coworking space features event spaces that are perfect for hosting workshops, seminars, and networking events. These spaces allow you to engage with like-minded professionals, exchange ideas, and forge valuable connections.
Key Amenities
Internet

Valet Parking

Coffee/Tea

Lounging Area

Recreational Rooms
Contact Details
50-N Gurumangat Road, Gulberg II, Lahore, Pakistan

22-N, Block N, Phase II Johar Town, Lahore, Pakistan

+923008496079 (COLABS Campus)

+923008496017 (COLABS Johar Campus)

Starting From Rs. 999/- per hour
Note - There are different packages available on the website.
Kickstart - Karachi, Lahore, Islamabad
If you're a professional in Karachi, Lahore and Islamabad, Pakistan, searching for a vibrant and dynamic co-working space, look no further than Kickstart. Situated in the bustling city of Karachi, Kickstart offers a conducive environment for entrepreneurs, freelancers, and remote workers to thrive. With its modern facilities, flexible membership options, and a supportive community, Kickstart is the go-to destination for professionals seeking a productive workspace.
Kickstart is a co-working space with various locations in Pakistan. This shared office space has an impressive 30,000 square feet of space altogether, providing dedicated office spaces, hot desks, conference rooms, virtual office facilities, and training rooms for entrepreneurs.
When it's time for a break or networking opportunities, Kickstart has you covered. They provide a comfortable and inviting communal area where you can relax, recharge, and interact with fellow members. This casual space fosters connections, enabling you to expand your professional network and explore potential collaborations.
What's Available?
White-Labeled Office - Customized Pricing

Private office - Starting from PKR 35,000/month

Dedicated desk - Starting from PKR 15,000/month

Virtual office - PKR 4,000/month

Meeting Rooms - Starting from PKR 800/hr

Event Spaces - Starting from PKR 3,500/hour

Podcast Studio - PKR 1,500/hr

Hot Desk - Starting from PKR 8,000/month
Location - Karachi, Lahore, Islamabad
Website - https://kickstart.pk/
Contact Number - +92-333-0596162 (Mon-Sat 9:00 AM - 6:00 PM)
Charges - Rs. 35000/month
Regus - Islamabad, Karachi
Regus is a global company that has a presence in Pakistan. Regus co-working spaces have several locations in all major cities across the country. Their spaces offer offices available to rent, virtual offices, and meeting rooms. They are known for providing a professional work environment for businesses of all sizes.
When it comes to co-working spaces, Regus is a name that stands out. With its global presence and reputation for excellence, Regus is a leader in providing flexible and professional workspace solutions. Whether you're a freelancer, a small business owner, or a remote worker, Regus offers a range of options to suit your needs, enabling you to focus on what matters most: your work.
Regus is renowned for its exceptional amenities and services. When you become a member, you gain access to high-speed internet, state-of-the-art meeting rooms, business lounges, and a supportive administrative team to assist you with your day-to-day operations. Regus takes care of the details so you can focus on growing your business and achieving your goals.
Location - Karachi, Islamabad
Website - https://www.regus.com
Contact Number - +92 51 2099204
SandBox - Karachi
SandBox is a shared work space in Karachi that provides different office size options for businesses. The workspace offers freelancers, startup businesses, remote workers, SMEs, and individuals; private offices, workspace pods, dedicated desks, workshop space, and event spaces.
One of the key highlights of Sand Box is its commitment to providing reliable and high-speed internet connections. They understand that a fast and stable internet connection is essential for professionals who rely heavily on online communication, research, and collaboration. With multiple high-speed internet connections, Sand Box ensures that you have seamless connectivity to meet your work demands.
Sand Box goes the extra mile when it comes to pricing. They believe in transparency and inclusivity, which is why their pricing includes full electricity costs with backup generators. You won't have to worry about additional electricity charges or unexpected power outages disrupting your work. Additionally, Sand Box offers dedicated lockers, providing a secure space for you to store your belongings and work materials. They also provide landline numbers, allowing you to have a professional contact point for your business communications.
Amenities
Personalized Room with Key Lock

24/7 Access*

Dedicated Car & Bike Parking*

Partner Benefits

All Common Facilities
Location - Karachi
Website - https://sandbox.com.pk/
Contact Number - 0321-8651457, 0304-0445341
Charges - Rs. 16000/seat (monthly)
Note - More packages are available on the website
The Hive - Karachi, Lahore, Islamabad
The Hive is a co-working space provider with locations in Karachi and Islamabad. It offers a variety of work models, catering to many business types like startups, educational organizations, tech-based firms, financial services providers, and a lot more. Their shared office spaces are open 24/7 and accessible for all members.
At The Hive, the primary focus is on supporting business growth. The team takes care of all the necessary details, allowing professionals to concentrate on expanding their horizons and achieving their goals. From the moment one steps into The Hive, they are greeted with a visually stunning and thoughtfully designed environment that inspires creativity and productivity.
One of the standout features of The Hive is its commitment to providing good-looking, scalable offices. The workspace is meticulously designed with aesthetics in mind, ensuring that it reflects the brand identity and leaves a positive impression on clients and team members. Modern and stylish elements are incorporated throughout, enhancing the overall ambiance.
Amenities
9 AM to 6 PM

Power back-up

Super-fast Internet

On-site staff

Unlimited Tea/Coffee
Location - Karachi, Lahore, Islamabad
Website - https://www.thehive.pk/
Contact Number - +92 518302736
Daftarkhwan - Islamabad, Lahore, Rawalpindi
Daftarkhwan offers flexible workspace solutions specially designed for entrepreneurs and freelancers. Daftarkhwan has spaces for teams and individuals looking for various workspaces like private offices, dedicated desks, shared workspaces, and event spaces in Karachi.
Daftarkhwan aims to deliver an agile workplace that can adapt to the evolving needs of the modern-day. With their focus on providing high-performance and vibrant workspaces, Daftarkhwan attracts and retains top talent, making it a sought-after destination for professionals.
In today's competitive landscape, attracting and retaining top talent is a priority for businesses. Daftarkhwan addresses this concern by creating an environment that fosters creativity, collaboration, and innovation. The vibrant and engaging workspace they provide attracts talented professionals and encourages them to excel. When individuals feel motivated and inspired by their surroundings, they can deliver their best work, contributing to the overall success of their organizations.
Location - 3rd Floor, Vogue Towers, MM Alam Rd, Block C2, Gulberg, Lahore
Website - https://daftarkhwan.com/
Contact Number - (0304) 1113387
Popcorn Studio - Lahore, Karachi, Faisalabad, Islamabad
Popcorn Studio is a vibrant and innovative co-working space that ignites creativity and fosters collaboration among professionals. Located in a bustling area of [City], Popcorn Studio provides a dynamic work environment where individuals can thrive and bring their ideas to life.
Step into Popcorn Studio and you'll immediately feel the energetic atmosphere that permeates the space. Designed to inspire creativity, the studio features modern and stylish interiors that blend aesthetics with functionality. The open layout encourages interaction and collaboration, making it the perfect place for professionals from various industries to come together and exchange ideas.
As a co-working space, Popcorn Studio offers a range of flexible workspace options to suit different needs. Whether you're a freelancer, a startup, or an established business, you can find a space that suits your requirements. From private offices for focused work to shared desks for networking opportunities, Popcorn Studio has it all. Their membership plans are designed to be flexible, allowing you to choose the option that best aligns with your working style.
Amenities
Comfortable Seats

High Speed Internet

Huge Parking Space

Kitchen Available 24/7

Conference Room

24/7 CCTV Security

Dedicated Workspace

Mail Handling Facility
Location - Plot 17/8 Haroon Chambers, Napier Rd, Seari Quarters, Karachi, Karachi City, Sindh 74700
Website - https://popcornstudio.co/
Contact Number - 0317 7672676
TheDesk - Islamabad
Next on our list is The Desk, a versatile co-working space that caters to professionals seeking a productive and collaborative environment. Located in the heart of Islamabad, The Desk offers a range of workspace solutions designed to meet the diverse needs of individuals and teams.
The Desk features modern and ergonomic workstations that provide comfort and functionality. Whether you prefer a private office or a shared desk, The Desk has flexible options to accommodate your preferences. The well-designed workspace promotes productivity, allowing you to focus on your tasks and achieve your goals.
At The Desk, they believe that work should be enjoyable and fulfilling. To create a positive and engaging environment, they organize regular networking events, workshops, and seminars. These events not only provide opportunities for professional growth but also foster a sense of community among the members. Collaborative spaces within The Desk encourage interaction and idea exchange, further enhancing the collaborative spirit.
Location - Lower Ground, Plot 349 St 1, I-9/3 I 9/3 I-9, Islamabad, Islamabad Capital Territory 44000
Website - https://thedesk.pk/
Contact Number - (051) 8442556
Charges - For 6 People. PKR 75,000/month (9 am - 6 pm | 7 pm-5 am), PKR 140,000 (24 Hours)
Workplace - Karachi
Workplace is another notable co-working space that offers professionals a flexible and productive environment. Situated in a convenient location in Karachi, Workplace provides a range of amenities and services to support your work needs.
Workplace understands that every professional has unique requirements, which is why they offer a variety of workspace options. Whether you need a dedicated desk, a private office, or a virtual office, Workplace has the right solution for you. Their flexible membership plans allow you to choose the duration and terms that suit your working style.
In addition to comfortable workstations, Workplace provides access to meeting rooms equipped with modern technology for seamless presentations and discussions. High-speed internet ensures uninterrupted connectivity, and their dedicated support team is always ready to assist you with any requests or inquiries.
Location - Office No 1502, 15th Floor Caesar's Tower Shahrah-e-Faisal Karachi.
Website - https://www.workplace.pk/
Contact Number - 0317-2999440, 021-32800214
Charges - Rs 17,999, Per Seat Per Month
Benefits of Co-Working Spaces for Modern Entrepreneurs in Pakistan
Co-working spaces provide businesses with a cost-effective way to work, as well as access to various amenities such as high-speed internet connection, printing and scanning facilities, conference rooms, and meeting rooms. They offer an opportunity for businesses to network and form collaborations, which in turn enhances business prospects.
Moreover, shared office spaces can also provide a supportive work environment, promoting growth and productivity through proximity. Co-working spaces foster an intellectual community by offering a platform to entrepreneurs and startups to collaborate, innovate and work together.
Conclusion
Co-working spaces in Pakistan provide new businesses with cheaper and flexible alternatives to traditional office spaces. Entrepreneurs and businesses can take advantage of the many services and facilities in these spaces while minimizing costs and achieving growth. This article has compiled a list of the top co-working spaces available in Pakistan that can cater to the business needs of modern entrepreneurs, from freelancers and startups to corporate entities.
back to blog listing