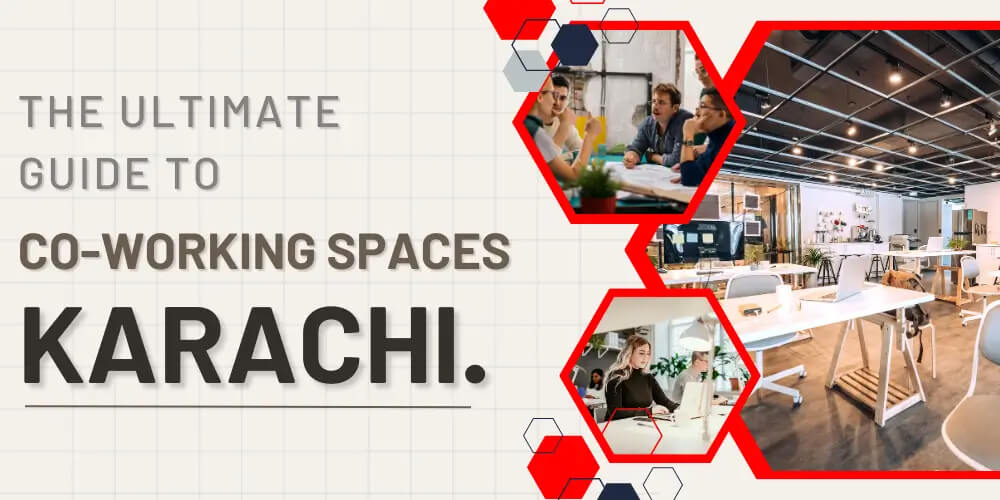 So you've decided to ditch the home office or coffee shop and join a co-working space. Smart move. Co-working spaces are all the rage these days, and for good reason.
They offer community, collaboration, and productivity-boosting amenities. The tricky part is finding the right space for you in a city as big as Karachi. But don't worry, we've got you covered. We toured over a dozen co-working spaces across Karachi to find the best spots for every budget, work style, and location.
Whether you're a solopreneur looking to network, a startup needing affordable office space, or a corporate team wanting an innovative workspace, this guide will help you find your perfect co-working home in Karachi.
The Rise of Co-Working in Karachi
Co-working spaces have exploded onto the scene in Karachi over the last few years. As the city's startup ecosystem has grown, so has the demand for affordable office space and a collaborative environment.
Co-working spaces provide flexible options. You can rent a dedicated desk, private office or just drop in when you need. Most offer daily, weekly and monthly rates that can accommodate any budget.

You'll be surrounded by like-minded people. Whether you're a freelancer, entrepreneur or remote employee, co-working spaces are filled with others in similar situations. It's a great place to network, collaborate, and even find new clients or business partners.

Amenities abound. Expect things like high-speed WiFi, printers, meeting rooms, kitchens and often showers. Some spaces also host regular events like seminars, workshops and happy hours.

Location, location, location. Many co-working spaces are located downtown or in trendy, up-and-coming neighborhoods. This makes it easy to meet clients or like to grab coffee or lunch. Some are also located within business districts for easy access to potential partners and networking opportunities.
The co-working scene in Karachi is diverse with options for every need and budget. Give one a try—you might just find your new professional home! With welcoming communities, useful amenities and flexible options, co-working spaces are ideal for entrepreneurs, startups and remote workers looking to get out of the home office.
Top Co-Working Spaces for Creatives and Startups
Looking for an inspiring place to work on your creative projects or build your startup? Karachi has some great co-working options for entrepreneurs, freelancers, and digital nomads.
First on the list is DotZero, an open space for creators and innovators in the heart of Karachi. They offer private offices, dedicated desks, and open seating plans. The space is designed to foster collaboration with lounge areas, private meeting rooms, and an on-site cafe. Membership starts at Rs 6,000 per month.
Another popular spot is Nest I/O. As Pakistan's first startup incubator and co-working space, Nest I/O is home to dozens of startups and freelancers. In addition to a collaborative workspace, they offer mentorship programs, networking events, and skills development workshops. Day passes are Rs 1,000 or you can opt for dedicated desk space for Rs 15,000 per month.
For freelance writers, designers, and creatives, The Collaborator is an inviting shared office. They provide both open seating and private suites with amenities like high-speed WiFi, mail handling, and printing. The community regularly hosts networking meetups, skill shares, and portfolio reviews. Drop-in rates are Rs 800 per day or choose a monthly membership for Rs 10,000.
Finally, if you're looking for a co-working space with a global network, check out WeWork or Regus. Both offer high-end office spaces, business amenities, and the opportunity to connect with professionals from all over the world. Rates for a dedicated desk at WeWork start around Rs 25,000 per month. At Regus, a basic co-working membership is Rs 15,000 monthly.
With this variety of co-working spaces, Karachi has a spot for every freelancer, startup team, and digital nomad. All you need is your laptop and a vision to build something meaningful. Happy collaborating!
Affordable Shared Office Spaces for Bootstrapped Entrepreneurs
Karachi Co-working
If you're an entrepreneur on a budget, don't worry—Karachi has affordable co-working options for you. Check out these shared office spaces perfect for bootstrapped startups and solopreneurs.
Karachi Co-Working offers hot desk memberships starting at just Rs. 5,000 per month. For that, you get 24/7 access to their space with high-speed WiFi, printers, and meeting rooms. They have locations in Clifton, Gulshan, and Johar. It's a great place to connect with like-minded entrepreneurs.
Another budget-friendly choice is COCO, with hot desks from Rs. 6,000 monthly. They have a more industrial vibe and focus on building a collaborative community. COCO frequently hosts events, talks, and networking sessions for members. They have spaces in Clifton Block 2 and Bahadurabad.
If you're on an ultra-tight budget, look into DayUse. They offer pay-as-you-go access to co-working spaces for as little as Rs. 500 per day. While not ideal for long-term use, it's perfect if you just need a professional place to work for a day or two each week. They partner with spaces like COCO, Karachi Co-Working, and others around the city.
As an entrepreneur, having a dedicated co-working space can make a big difference in your productivity and motivation. Don't let a small budget stop you—with options like these around Karachi, you can find an office space to suit your needs and your wallet.
Co-Working Spaces With Private Offices for Established Businesses
SandBox
Situated in a convenient and accessible area, SandBox is centrally located in Karachi, making it easy for members to commute and access essential amenities in the city.
SandBox boasts a modern and aesthetically pleasing interior that promotes a positive and energetic work atmosphere. The space is meticulously designed to cater to the needs of diverse professionals, offering a blend of open work areas, private offices, meeting rooms, and breakout zones.
DotZero
For tech startups and businesses, DotZero in D.H.A. Phase 8 has private offices starting at 50,000 PKR per month. DotZero provides a collaborative community for the tech industry with mentorship programs, investor meetings, and events on the latest innovations. Offices come furnished with high-speed internet, phone booths, and access to meeting rooms decked out with the latest AV equipment. DotZero would be ideal for tech companies wanting to tap into resources and make valuable connections within Karachi's startup ecosystem.
Daftarkhwan
Daftarkhwan in Saddar has private offices starting at 30,000 PKR per month, making it an affordable option for budding entrepreneurs. Daftarkhwan offers a coworking space for creatives and startups with a cafe, event space, podcast studio, and mentorship program. Private offices provide desks, chairs, WiFi, and access to meeting rooms and communal areas. For startups on a budget, Daftarkhwan provides an inspiring community and workspace to help your business take off.
Pay-as-You-Go Options: Co-Working Spaces With Flexible Plans
If you're not ready to commit to a long-term membership at a co-working space just yet, pay-as-you-go options are a great flexible alternative. These spaces allow you to purchase access by the hour, day or month so you can find what works for your needs and budget.
SandBox
The SandBox co-working space in Karachi offers a flexible membership plan designed to cater to the diverse needs of professionals and businesses. This membership option provides individuals and teams with the freedom and scalability they require to optimize their work experience.
With the flexible plan, members have the option to choose from various workspace options based on their preferences and requirements. They can opt for hot desks, which are ideal for those who enjoy working in a dynamic and collaborative environment. Hot desks allow members to choose any available workspace on a first-come, first-served basis.
The Hive
The Hive is one of the most popular pay-as-you-go co-working spaces in Karachi with multiple locations across the city. Plans start at Rs. 200/hour and include access to high-speed WiFi, printer/scanner, private offices or dedicated desks, and conference rooms. They also offer day passes for Rs. 800 and monthly memberships if you want to upgrade. The atmosphere is casual and creative, perfect for freelancers, startups and entrepreneurs.
Daftarkhwan
Daftarkhwan takes a minimalistic approach with a focus on providing high quality infrastructure and work environment. They charge Rs. 300/hour or Rs. 2,000/month for access to their co-working space which features ergonomic furniture, strong WiFi, meeting rooms and a pantry. They limit the number of members to maintain an intimate feel where meaningful connections can be made. If you're looking for a productive space to get work done, Daftarkhwan is an excellent choice.
Pay-as-you-go co-working spaces provide flexibility and opportunity. Check out the options in your area and find one that matches your needs. The freedom to choose a plan that works for your budget and schedule can help reduce stress and allow you to focus on what really matters - growing your business.
Conclusion
You now have everything you need to find a co-working space in Karachi that suits your needs. Whether you're looking for a quiet place to focus, a collaborative community to join, or just an affordable alternative to working from home, there are great options across the city. The co-working movement is growing fast in Pakistan, so even more choices are likely coming soon.
Give a few spots a try, see which vibe and amenities you like best, and then settle in to get some great work done. Who knows, you might make some new professional connections or even friends along the way. The future of work is flexible, and co-working spaces are leading the way.
back to blog listing