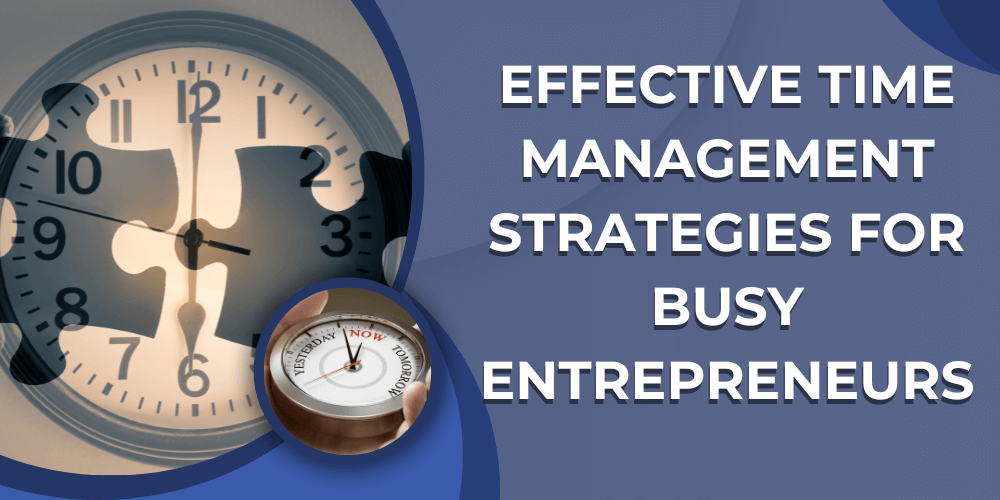 You're an entrepreneur. That means every minute of your day counts. Between managing your business, serving your clients, and still trying to have a life outside of work, finding enough hours in the day can seem downright impossible. The good news is, with the right time management strategies, you can reclaim your time and gain back some work-life balance.
In this article, we'll explore some of the most effective techniques busy entrepreneurs are using to maximize their productivity and make the most of each day. You'll learn how to prioritize important tasks, minimize distractions, delegate when needed, and make time for self-care. You didn't start your own business to feel overwhelmed and overworked every day. With the help of these practical strategies, you'll be well on your way to feeling more in control of your time and less like the clock is always against you. The solutions are easier than you think. Are you ready to become the master of your time rather than its servant? Let's dive in!
Prioritize Important Tasks
As an entrepreneur, your time is your most valuable asset. If you're not careful, your days can easily get swallowed up by non-essential tasks that zap your productivity. The key is learning how to prioritize what really matters.
Start by making a list of your big goals and priorities for the week. These should be the things that really move the needle in your business like launching a new product, acquiring new customers, or developing critical partnerships. Break down big goals into smaller milestones to make them feel more achievable.
Schedule time for your priorities first before filling in any remaining time with less important tasks. Block off time for your high-impact priorities in your calendar and treat those time blocks as non-negotiable. Turn off notifications on your devices during those periods so you can focus.
Learn to delegate when you can. As a business owner, it's easy to feel like you have to do everything yourself, but that's a fast track to burnout. Make a list of tasks that someone else could handle and see if you can bring on an intern, hire a freelancer or outsource to a third party. Even delegating small tasks can free up more of your time and mental space.
Finally, avoid distractions and time-wasters. Things like excessive social media use, web surfing, and chatter can easily derail your productivity if left unchecked. Let people know if you have certain hours set aside for focused work and may not be available. The more you prioritize your time, the more you'll get done and the less stressed you'll feel. Success starts with focusing on what really matters.
Develop an Effective Routine
To stay on top of everything as an entrepreneur, establishing an effective routine is key.
Start your day early, around 6 am. This gives you time to exercise, meditate or journal to prepare your mindset. Have a good breakfast - your brain needs fuel to function properly!
Review your schedule and to-do list. Prioritize important and high-impact tasks. Try to tackle difficult work during your peak energy periods. Break big projects into smaller milestones.
Take regular breaks to recharge. Even taking short walking breaks can help you renew your energy and gain a fresh perspective. Try to avoid checking email continuously, as this fragments your focus.
Use timeboxing: allocate fixed time periods to work on specific tasks without interruption. Start with just 30-60 minutes at a time. This helps avoid distraction and keeps you on track.

Leave buffer time in your schedule for the unexpected. Not everything goes according to plan!

Try to end work at a reasonable time in the evening, around 6 or 7 pm if possible. Spend time with loved ones, exercise or pursue hobbies. Your mind and body need rest.
Establishing good habits and routines will make you far more productive and help grow your business. It may take effort, but success comes from discipline. Stay focused on your priorities and avoid time-wasters. The rewards of an effective routine are well worth it!
Limit Distractions
To effectively manage your time as an entrepreneur, you need to minimize distractions. There are so many things vying for your attention each day, it's easy to feel overwhelmed and unproductive. Making a conscious effort to limit distractions will help you focus on what really matters.
Turn off notifications on your devices
The constant dings, buzzes and pop-ups from your electronics divert your attention and disrupt your flow. Disable alerts for new emails, messages, and app updates on your phone, laptop, and any other devices. Check for notifications at set times instead of having them interrupt you throughout the day.
Let people know you're unavailable
Once you've turned off notifications, let your colleagues and clients know that you have set times when you're unavailable. For example, you may set the time from 9 am to 12 pm as a period where you are focusing on high-priority work and not responding to messages right away. Ask them to avoid contacting you during this time unless absolutely necessary. Most people will understand and respect your need for focused work periods.
Find a dedicated workspace
Working from home or a shared office space presents many distractions. Try to find a dedicated room or area in your home to serve as your workspace. Make sure it's separate from the spaces where you relax. Having a door you can close is ideal. A proper workspace helps put you in the right mindset to concentrate on your tasks.
Take periodic breaks
While limiting distractions is important, it's also essential to recharge by taking periodic breaks. Step away from your work for a few minutes every 90 to 120 minutes to rest your mind. Do some light exercise like stretching, go for a quick walk, or make a snack. Breaks will rejuvenate your mind and body, making you more productive and focused when you resume work.
Using these strategies to minimize distractions gives you the space to focus on what matters most. You'll be able to make the best use of your time and have more left at the end of the day for yourself and your loved ones. Reduced stress and increased productivity - that's the perfect combination for any busy entrepreneur.
Learn to Say No
As an entrepreneur, your time is extremely valuable. One of the hardest but most important skills you need to learn is how to say no. It's easy to feel obligated to accept every opportunity, task, and request that comes your way. But taking on more than you can handle will only lead to feeling overwhelmed, missing deadlines, and producing mediocre work.
You can't do it all, so be highly selective about where you spend your time and mental energy. Politely say no to anything that isn't an absolute priority or top opportunity. Your time should be focused on high-value and high-impact activities that move your business forward.
Some tips for learning this crucial skill:
Have a clear vision and set of priorities to guide your decisions. If something doesn't align with your key priorities, it's easier to say no.

Don't feel guilty about saying no. You can't please everyone all the time. Be willing to disappoint some people to achieve your goals.

Suggest an alternative or compromise when possible. For example, say you have limited availability but would be open to a shorter meeting or call.

Be direct, honest and courteous in your refusal. Don't leave room for ambiguity or false hope. But also express appreciation for the consideration.

Practice saying no on a regular basis. The more you do it, the easier it becomes. Start with lower-risk situations and work your way up as you gain confidence.
Mastering the ability to say no when needed will empower you to take control of your time. You'll waste less of it on things that don't really matter and open up more opportunities to work on what does. This simple skill can make a huge difference in reducing stress, avoiding burnout, and achieving work-life balance as an entrepreneur. Make it a habit and watch your productivity and success rates soar.
Take Regular Breaks
As an entrepreneur, your days are likely packed with meetings, emails, calls, and an endless to-do list. While hustling is important, it's equally important to recharge by taking regular breaks. Taking breaks will make you more productive, creative, and effective.
Working at an intense pace for extended periods drains your mental and physical energy. Taking short breaks helps you renew your energy and motivation. Even taking a quick walk around the block, doing some light exercise like yoga, or simply closing your eyes for a few minutes can help you feel rejuvenated.
Breaks also boost your creativity by giving your mind a chance to rest. When you return to work, you'll have a fresh perspective and new ideas may come to you more easily. Some of the most innovative ideas happen when the mind is allowed to wander.
It may seem counterintuitive, but working longer hours doesn't always mean higher productivity or better results. In fact, frequent breaks have been shown to increase productivity. Your brain can only focus for 90-120 minutes at a time, so take a 15-20 minute break every 1-2 hours. Step away from your work completely—no checking email or doing chores. Do something you enjoy like reading, socializing, or pursuing a hobby.
As an entrepreneur, there's always more work you could be doing. But rest and recharge is essential to maintain your health, relationships, and sanity. Make time for yourself a priority in your schedule. Take all your paid time off and truly unplug when you do. Your business and your effectiveness as a leader will benefit from your renewed motivation and mental clarity.
Last Words
In summary, taking regular breaks makes you a more productive, creative, and effective entrepreneur. Recharge your mind and body, boost your creativity, increase your productivity, and avoid burnout. Take frequent short breaks, longer breaks when possible, use all your paid time off, and make self-care a priority. Your business and your wellbeing will thrive as a result.
back to blog listing