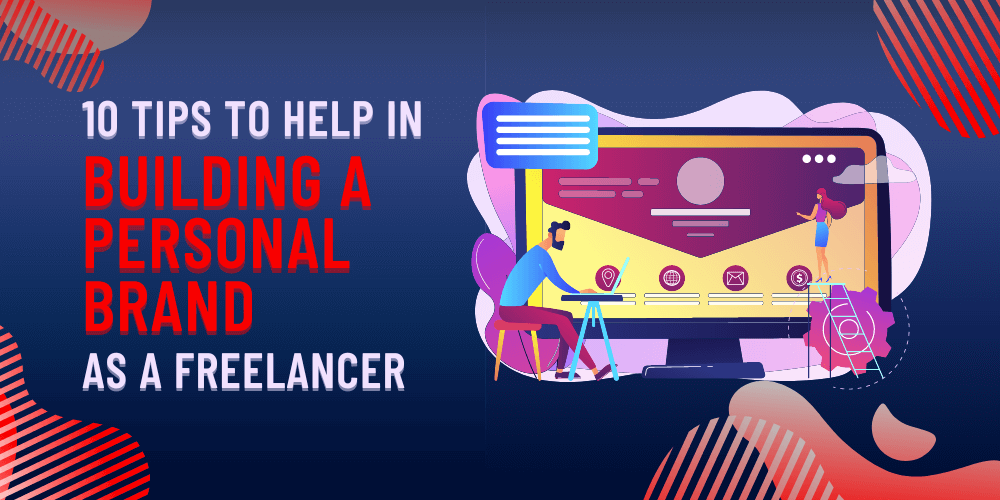 Hey there, freelancing friend! So you've decided to take the plunge into freelance life. Exciting, right? While the freedom of freelancing is appealing, it also means you're now responsible for finding your own work and clients. The good news is, by building a strong personal brand, you can attract new opportunities and stand out from the crowd.
As a freelancer, your personal brand is one of the most powerful tools you have to build credibility, connect with your ideal clients, and achieve success. In this article, we'll explore top tips to help build your personal brand as a freelancer. Follow these tips and you'll be well on your way to establishing yourself as a trusted, in-demand freelancer. Let's get started!
Define Your Area of Expertise
Defining your area of expertise is key to establishing yourself as a knowledgeable professional. As a freelancer, your niche is what sets you apart and allows you to charge premium rates.
Think about your strengths, skills, and interests. What are you passionate about? What comes naturally to you? Some examples could be:
Writing (blogging, content creation, copywriting)

Graphic design (web design, branding, illustration)

Virtual assistance (admin support, data entry, email management)

Coding (web development, mobile app creation, software engineering)
Once you determine your niche, develop specialized knowledge and skills in that arena. Become an expert in your field. Take additional courses or pursue certifications to strengthen your expertise.
When defining your brand, be specific in how you describe your services. Rather than saying you're a "writer" or "designer," specify that you're a "content creator specializing in blog posts and email newsletters for wellness brands" or an "illustrator and web designer focused on creating visuals for children's educational mobile applications." The more tailored your positioning, the more in-demand you will become.
Promoting a clearly defined brand and area of expertise is key to success as an independent professional. When people know exactly what you offer and who you serve, they will come to you when in need of those specialized skills. Your niche is what turns you from being just another freelancer into an industry leader. Take the time to determine how you can best contribute to the marketplace based on your unique talents.
Build Your Online Presence
To build your brand as a freelancer, you need an online presence. Here are a few tips to get started:
Focus on your website. As a freelancer, your website is your digital hub. Invest in a simple, modern design and fill it with samples of your best work, client testimonials, and details about your services. Optimize it for search engines by including important keywords.
Build your profile on LinkedIn. LinkedIn is the top network for professionals. Create an engaging profile highlighting your experience, skills, and accomplishments. Join relevant groups, post updates, and engage with your connections. Become an authority in your industry by posting long-form blog posts.
Start a blog. Launching your own blog is one of the best ways to establish yourself as an expert in your field. Share your knowledge and experience through blog posts, tutorials, and case studies. Post at least once a week to keep readers engaged. Promote your posts on social media to increase traffic.
Be active on social media. Choose 2-3 social platforms like Twitter, Facebook, and Instagram that your target clients use. Post regularly about your services, share examples of your work, industry news, and behind-the-scenes details. Engage with your followers by liking and commenting on their posts as well.
Build relationships. Networking is key for freelancers. Attend industry events, join mastermind groups, and reach out for informational interviews. Help others by promoting their services and sharing resources. Genuine relationships and word-of-mouth referrals will lead to new opportunities.
With consistency and time, you can build a personal brand that establishes you as a thought leader in your industry and leads to a steady stream of new clients. The key is providing value at every step, so keep learning, keep engaging, and keep putting in the work to strengthen your online presence.
Start a Blog or Podcast
Starting a blog or podcast is a great way to build your personal brand as a freelancer. It establishes you as an expert in your field and gives potential clients a taste of your skills and knowledge.
Choose a focused topic
Select a specific area of your freelance expertise to concentrate on. It could be a particular skill, industry, or client type. This will make your content more useful and help define your brand. Think about what your ideal clients would want to learn from you.
Post consistently
Aim for publishing a new blog post once a week or every other week, or releasing a new podcast episode every month. Be consistent with your posting schedule so readers and listeners know when to expect your latest content. Staying consistent also helps establish you as a reliable expert.
Share your insights and experiences
Share tips, how-to's, behind-the-scenes details, trends you're noticing, and lessons you've learned. Talk about both successes and failures. Your audience will appreciate your candor and learn from your experiences.
Promote your content
Promote your blog posts and podcast episodes on social media platforms like LinkedIn, Twitter, and Facebook to increase traffic and subscribers. Engage with your readers and listeners by replying to their comments and messages. Build a connection with them so they become part of your community.
Starting a blog or podcast does require an investment of time to create useful content and build your audience. But it is one of the most powerful ways to demonstrate your expertise to potential clients, nurture your personal brand, and establish yourself as an authority in your freelance field. With consistency and by providing value, you'll gain more visibility and land new clients through your content.
Be Active on Social Media
Building an active social media presence is key to establishing yourself as a freelancer. Social platforms allow you to connect directly with potential clients, share your work, and boost your visibility.
Grow your networks
Start connecting with others in your industry on LinkedIn. Join relevant LinkedIn groups to engage with like-minded professionals, share posts, and look for new opportunities. Follow influencers and thought leaders in your field. Reach out and start building mutually beneficial relationships.
Share valuable content
Posting insightful content on your social channels helps to build your credibility and expertise. Share blog posts you've written, behind-the-scenes details of projects, useful resources or tools, or tips and advice for others in your field. Images, videos and stories also help to give followers a glimpse into your work and personality. Engage your audience by asking open-ended questions and sparking discussions.
Promote your services
While social media shouldn't be purely self-promotional, it is a chance to increase visibility of your freelance business. Post about new services or offerings, reviews from happy clients, or case studies of successful projects. Use eye-catching images and clear calls-to-action to drive traffic to your website. Respond promptly to any leads or inquiries that come through your social channels.
Stay active and consistent
The key to success on social media is consistency and engagement. Post regularly—aim for at least 2-3 times per week—and stay active in the comments, liking and replying to followers. Pay attention to which types of posts get the most traction and engagement to optimize your future content. Stay on top of the latest social media trends and new features to keep your profiles dynamic and up-to-date. With regular effort and activity, your social media presence and personal brand will continue to grow over time.
Network and Look for Speaking Opportunities
Once you have a solid online presence and portfolio of work established, it's time to get out there and network. Look for opportunities to share your knowledge and expertise with others.
Build your network
Start attending industry events, conferences, and meetups. Don't be afraid to introduce yourself to new people and make genuine connections. Build relationships with others in your field and related roles like content creators, marketing professionals, and business owners. Exchange business cards and connect on LinkedIn. Look for local networking groups on Facebook or Meetup.com to join.
Look for speaking gigs
Public speaking is a great way to raise your visibility and share your message. Pitch yourself as a speaker for industry conferences, local organizations, coworking spaces, and networking events. Some options to consider include:
Giving a keynote or breakout session at a conference

Leading a workshop or training for a local business group

Speaking at a podcast or being interviewed on a livestream show

Teaching a course at a community college or through an online learning platform
When you speak, focus on providing valuable information and actionable advice. Share your experiences and insights to establish yourself as a thought leader. Promote your speaking gigs ahead of time to draw a bigger audience. Record your talks and share them on your website and social media.
Get In front of the camera
Create video content for your brand to increase exposure and share your expertise. Film "how to" tutorials, vlogs, or a video series on your industry or area of work. Post videos on YouTube and promote them across your social media channels. Look for opportunities to be featured as a guest on other video podcasts, shows, and channels as well.
Building your network and pursing public speaking engagements are pivotal for establishing your personal brand. Putting yourself in front of audiences, whether live or through video, is the key to becoming a recognized expert and authority in your field. Make genuine connections, share your knowledge, and the opportunities will follow.
Conclusion
So there you have it, 10 tips to help build your personal brand as a freelancer. Implementing even a few of these strategies can help set you apart in a sea of competitors and build authority and trust with your audience. Remember, consistency and authenticity are key. Don't try to be someone you're not just to gain more followers or land bigger clients. Build your brand around who you genuinely are, highlight your unique skills and experience, and success will follow. You've got this! Now get out there, start creating amazing content, build meaningful connections, and watch your freelance business thrive.
back to blog listing